Lavender Hydrosol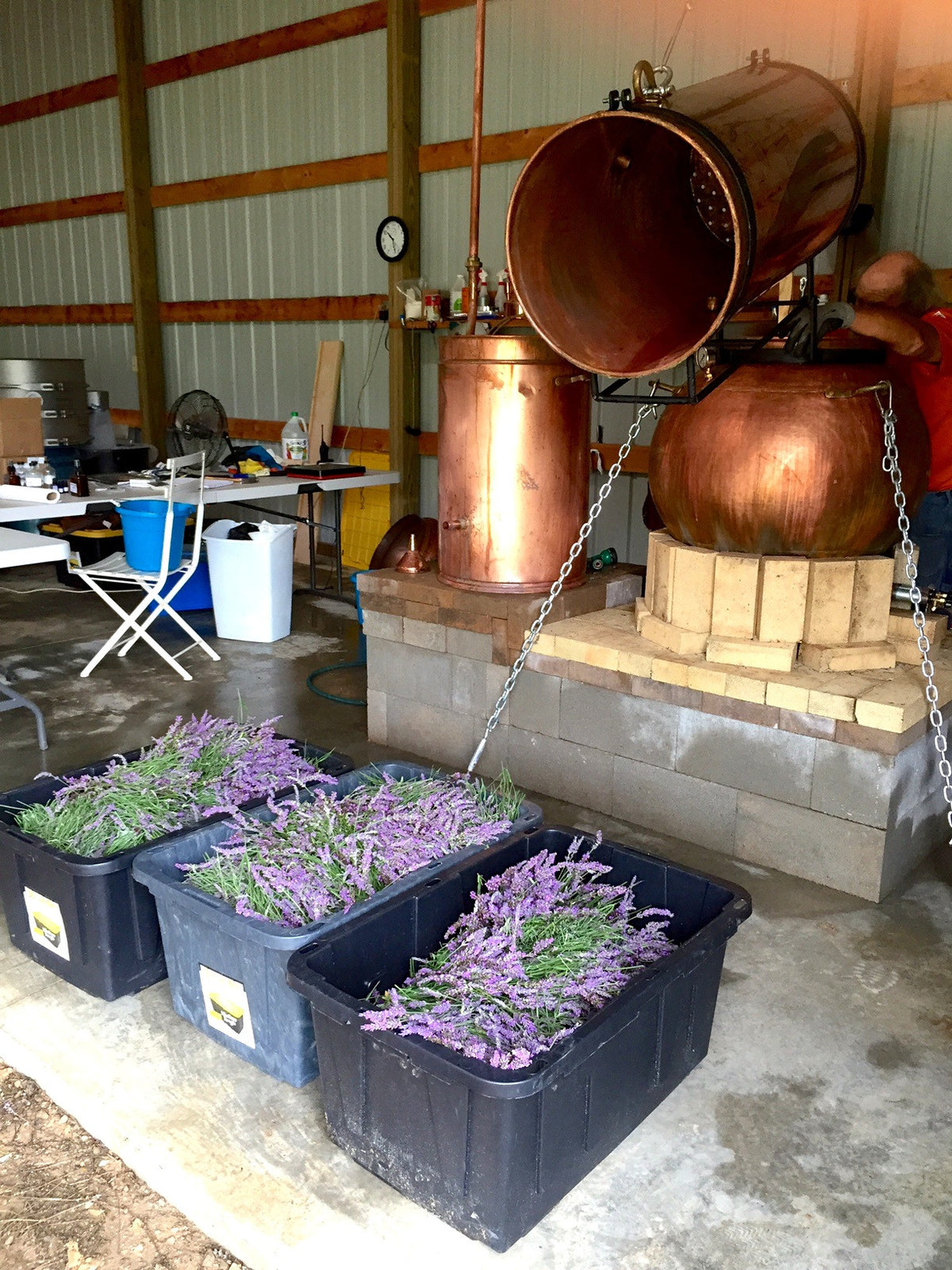 Lavender Hydrosol by Fragrant Isle Lavender Farm
The What and Why for Using
At Fragrant Isle Lavender Farm producing high quality lavender essential oil and hydrosol begins in the lavender field; which means growing healthy, pesticide/herbicide free lavender plants. After harvest our lavender plants are processed using a centuries old, steam distillation method; a practice that has been around for nearly 5000 years. A prominent feature of our big, red working barn is the Copper Alembic Still we use for the production of lavender essential oil and the wonderful byproduct hydrosol. It is a labor intensive endeavor, but truly worth the effort!
So, what is a hydrosol? The term hydrosol was coined in the 1990's by noted herbalist and aroma therapist Jeanne Rose. It means simply, "hydro" for water and "sol" for solution. Steam distillation is a process whereby the constituents of the lavender plant are separated. As steam fills the distiller pot, it rises and causes the plant's glands to burst which in turn, releases the oils and essence from the fibrous material of the plants. The steam travels through a series of copper tubing to a condenser. As the steam cools it reverts back to its liquid state. From the condenser the liquid flows through a filter and into a separator. Water is of higher density than oil therefore, the lavender hydrosol is easily drained from the bottom. It is important to note that lavender hydrosol contains all the same properties as lavender essential oil at lesser concentrations. Lavender hydrosol also contains water soluble components of the lavender plant that may not be present in the lavender essential oil. Hydrosols cannot be synthetically manufactured.
Why is lavender hydrosol used and what are the major benefits of its use? Let us count the ways! Lavender hydrosol is a refreshing, relaxing, multipurpose gem.  Lavender hydrosol's acidic pH closely matches that of the human skin (pH around 5.0) making it a great antifungal and antibacterial solution and promoter of a healthy skin flora. Lavender hydrosol may have a regenerative effect on skin irritations making it a great alternative to soothe and cool acne inflammation. It may provide relief from skin rashes, eczema and dryness. Combined with witch hazel it makes a refreshing toner for skin and will provide relief from mild sunburn. A drop or two of sage and peppermint essential oils added to lavender hydrosol are said to aid those suffering menopausal hot flashes. A spritz of lavender hydrosol will set your makeup and add shine to your hair. Apply to hair as a rinse after shampooing to help curb dandruff. Use it as a mid-afternoon makeup refresher. Feeling overheated or stressed? Calm yourself with spray of lavender hydrosol. It is safe to use on children. Use during diaper changes to clean and protect from diaper rash. There is also anecdotal evidence that it makes a fantastic "monster spray" for those needing to vanquish the "stuff of bad dreams," from under the bed! It is also safe to use on the family dog to soothe hotspots from scratching. It has also been said that lavender hydrosol will remove pine tar from hands.
When we called lavender hydrosol multipurpose, we weren't kidding. It can be used as a safe, non-toxic air freshener to deodorize your house and car. Lavender hydrosol makes a fantastic linen spray. Spritz on pillows before bedtime to promote a good night's rest. Lavender hydrosol is also great to use as ironing water. Devoid of hard chemicals it will not harm your iron. This subtly fragrant spray is a great household cleaner too. Use it on counters in the kitchen and bath. It is effective for cleaning mirrors and windows leaving nothing but streak-free glass.
We hope those of you who visit Fragrant Isle Lavender Farm during the harvest season will visit our working barn and witness first-hand how we process our lavender plants. Demonstrations will take place during our "All Things Lavender" Festival July 21, 22, and 23, 2017 and are on-going until the harvest is completed. You may also visit our store where you will find a comprehensive line of our lavender products. Sample a spritz of one of the many different hydrosol products made from our lavender. See for yourself just how versatile this amazing solution can be!
 www.fragrantisle.com
|
Posted on March 13 2017